Here's how to:
stop things going to landfill
save the energy needed for recycling
reduce the natural resources used to create new products.
Reduce and Re-use
Freecycle Bishop's Stortford
Online group where you can ask for things you need or offer things you don't.You can ask for items that you need or offer things that you are happy to donate. Membership is free. All items posted must be free, legal and appropriate for all ages
Olio
A sharing app for local communities, making it easy to give away the things you don't need to someone else who would value them. Originally working to reduce food waste but now all kinds of items.
Charity shops
Bishop's Stortford has plenty of charity shops that will take clothing, books, DVDs and smaller household items. Buy or donate pre-loved stuff and help a good cause.
Ecco
Takes larger items and furniture and also use proceeds from the shop to support the Parndon Wood Local Nature Reserve in Harlow.
Repair Cafe Sawbridgeworth
Helping repair household and personal items. Learn how to sew, solder and diagnose problems with a variety of items, including clothes, toys, electrical, ornaments, watches, bicycles, household, sewing, jewellery, garden equipment, mobile phones or laptops.
Dunmow Pay It Forward
Reusing and sharing things in Great Dunmow and surrounding areas.
Hertfordshire Recycling Centre Re-use Shop
The Bishop's Stortford household waste recycling centre also has a reuse centre where you can donate or buy larger items such as furniture.
Hertfordshire Libraries
There are libraries in Bishop's Stortford and Sawbridgeworth. This is the oldest reuse centre of them all and still the ideal way to reduce the number of new books that need to be printed.
REFILLit
A commercial doorstep delivery service of refills including cleaning products and shampoo in Stansted Mountfitchet, Bishop's Stortford and the surrounding towns and villages.
Clothing alterations by Izabella
Service for alterations of clothes. Repair them and refit them rather than buying new.
Recycle
Recycling is a last choice option for things that can't be reused. It can save energy and resources, and reduces the need for landfill. Recycling collections also provide a safer disposal route for items such as batteries that contain toxic materials.
Plastic-free Bishop's Stortford
Large Facebook group that celebrates plastic-free businesses and shares details of where and how to recycle.
Plastic Free Sawbridgeworth
Shares places that are trying to be plastic free. Plus additional recycling facilities.
Waste Warriors
A group created by North and East Herts District Councils with a shared goal of reducing waste across the two districts.
Hertfordshire Recycling Centre
The centre in Woodside Industrial Estate can take garden waste, wood, scrap metals, textiles, engine oil, batteries, flourescent light bulbs (including the low energy compact flourescent bulbs), CDs and DVDs, as well as recycling that would normally go in the kerbside waste bins.
Cam Metal Recycling
If you have more valuable metals, for example copper pipes or brass taps, you may get some money by taking them for recycling to Cam Metals in Twyford Road. They may require documents to show your identity.
Domestic recycling
East Herts council have kerbside collections for recycling from domestic properties:
Paper, in the paper box inside the blue-lidded bin
Glass, some plastics, metal tins and cans, inside the blue-lidded bins
Green waste, in the brown bins
More details of exactly what can be included are available in the Guide to Bins, Boxes & Collections.
Batteries
Most supermarkets have collection bins for small batteries. Ask at the customer service desk if the bin isn't easily found.
Things change. Please let us know if any of this information could be improved or extended. Contact us

Reduce and reuse before recycling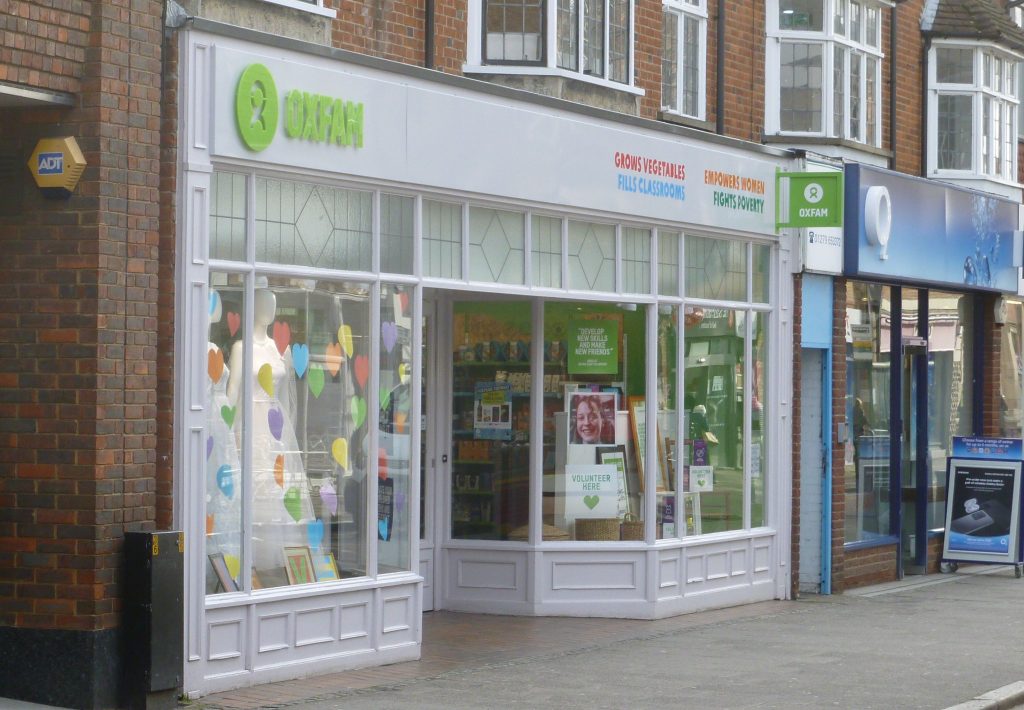 For things that can't be reused, we have plenty of recycling collection points