Our cycling project is now called Cycle Stortford. It's aim is to promote cycling (and walking) as a fun, healthy, practical low cost, low carbon method of travel in and around our town. The group welcomes local people to join the group.
We are pressing the local councils to develop cycling routes and infrastructure within the town so that people including children can cycle (and walk) safely between the main housing developments around the town into the town and to the railway station or to their schools. The current main focus is on campaigning for East Herts to put in place a Local Cycle and Walking plan (LCWIP) which will support funding of essential infrastructure.
In addition Cycle Stortford is prioritising 3 routes as follows:
The "spine route" South to North from the Station past Grange Paddocks up to the new Avanti Meadows School
Cycling through the Goods Yard site
Joining Stortford to the Flitch Way
Those interested to join the group and support more cycling (and walking) in our town will be very welcome. You can find us on Twitter, Instagram and Facebook @cyclestortford.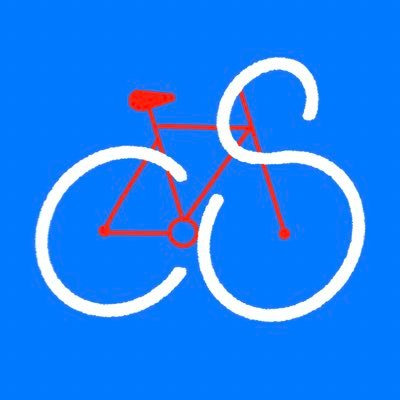 Cycling facilities
The cycle parking facilities at Bishop's Stortford station have recently been upgraded and there is now space for 240 bikes, and a has controlled access and a canopy for weather protection.
For those with a bike that that needs fixing, there is a servicing and repair service offered in Bishop's Stortford by Cycle Positive.
Route finding
Google maps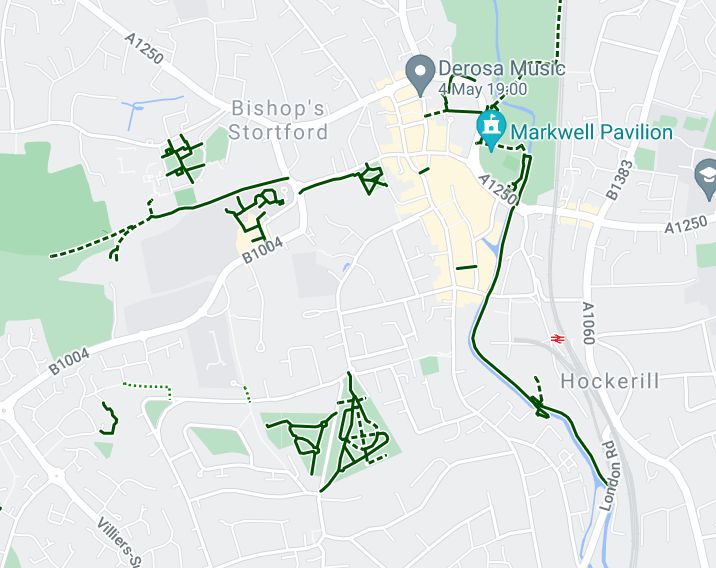 The directions function in Google Maps can be set for either walking or cycling and use off-road routes that are included in the database. This is getting better but there are some routes in Bishop's Stortford that are not included.
Komoot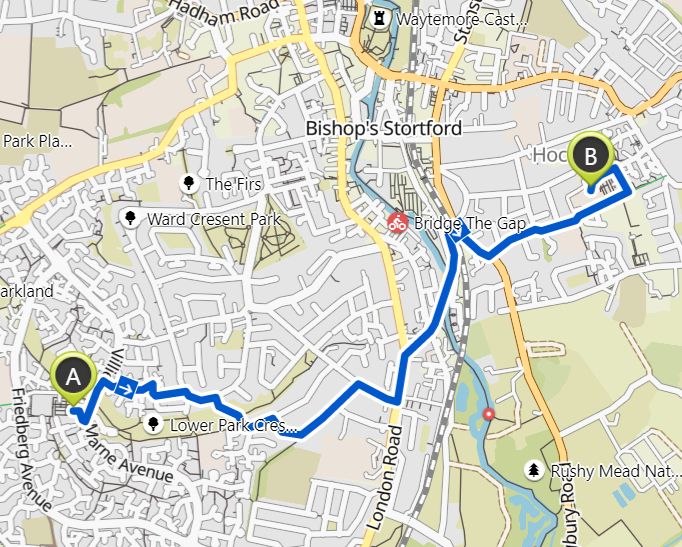 For a more comprehensive routes database try Komoot. This site also has more configuration options so you could set, for example, your fitness preferences and the chosen routes will show you how many hills are involved. There are different options for mountain biking or road bikes, and also for pedestrians where different routes will be selected.
Open Street Map
Komoot uses mapping data from Open Street Map but this is also directly accessible and has several different options for displaying the routes. The standard, CyclOSM and Cycle Map layers all show routes in Bishop's Stortford but with different levels of highlighting to the cycle routes compared to the mapping background.
A key feature of the Open Street Map data is that you can contribute new routes if they are not already included via the Wiki.
Rights of Way
The web pages listed above are great for finding routes that physically exist, but they don't guarantee that you have a right of access. For this you need the Rights of Way maps that are produced by the highways authorities, in our case Hertfordshire County Council and across the border to Essex County Council.
The maps only show rights of way up to the county boundary so there are some strange 'routes to nowhere' around Stortford where footpaths shown on the Herts map stop in the middle of a field, with the rest of the path being shown on the Essex map.