Transport is a major source of emissions in East Herts. Even if we could switch all our journeys to electric vehicles, some particulate emissions would remain, and there are still major concerns about resource use and the impact on electricity demand. Road-building has significant impacts on biodiversity and on our quality of life. Walking and cycling are a great alternative for local journeys.
Cycling has a much lower impact on the environment than driving. Even taking into account the embodied energy used to make the bike and the extra food needed by the cyclist, the carbon emissions are much lower than for cars. The European Cycling Federation estimate just 21 g CO2 per km. Cycling also has health benefits and avoids the air pollution, noise pollution and traffic congestion caused by driving.
For those with a bike that that needs fixing, there is a servicing and repair service offered in Bishop's Stortford by Cycle Positive.
The cycle parking facilities at Bishop's Stortford station have recently been upgraded and there is now space for 240 bikes, and a has controlled access and a canopy for weather protection.
Finding a route
Google maps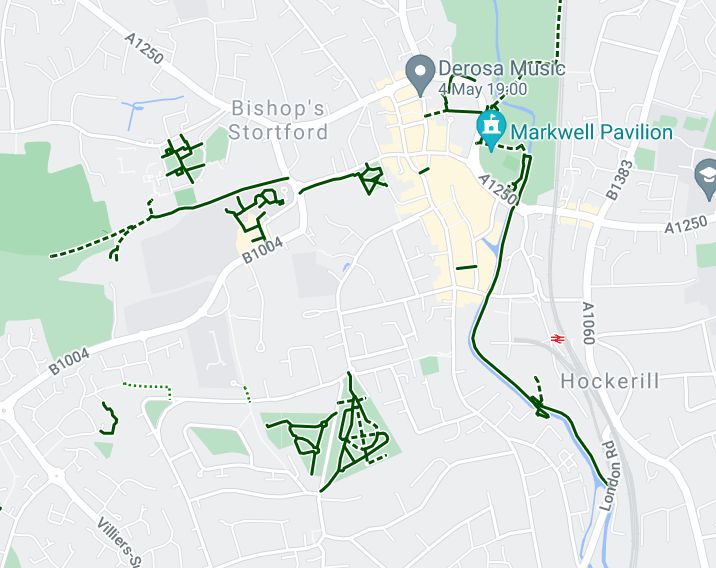 The directions function in Google Maps can be set for either walking or cycling and use off-road routes that are included in the database. This is getting better but there are some routes in Bishop's Stortford that are not included.
Komoot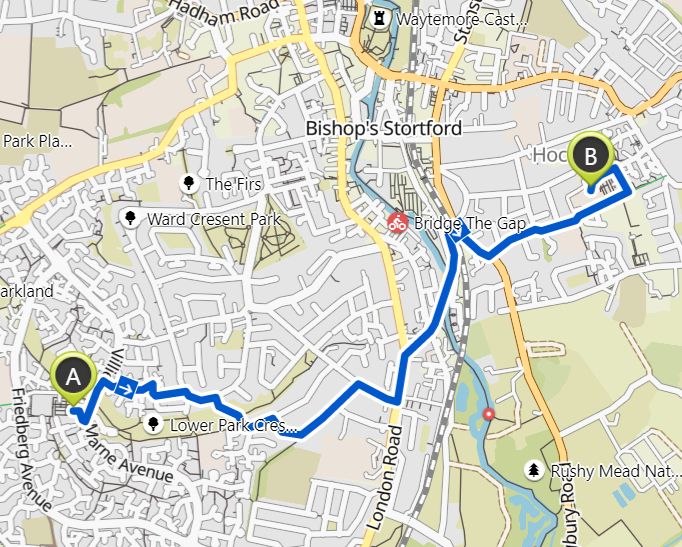 For a more comprehensive routes database try Komoot. This site also has more configuration options so you could set, for example, your fitness preferences and the chosen routes will show you how many hills are involved. There are different options for mountain biking or road bikes, and also for pedestrians where different routes will be selected.
Open Street Map
Komoot uses mapping data from Open Street Map but this is also directly accessible and has several different options for displaying the routes. The standard, CyclOSM and Cycle Map layers all show routes in Bishop's Stortford but with different levels of highlighting to the cycle routes compared to the mapping background.
A key feature of the Open Street Map data is that you can contribute new routes if they are not already included via the Wiki.
Rights of Way
The web pages listed above are great for finding routes that physically exist, but they don't guarantee that you have a right of access. For this you need the Rights of Way maps that are produced by the highways authorities, in our case Hertfordshire County Council and across the border to Essex County Council.
The maps only show rights of way up to the county boundary so there are some strange 'routes to nowhere' around Stortford where footpaths shown on the Herts map stop in the middle of a field, with the rest of the path being shown on the Essex map.
Electric bicycles
A member of the Bishops Stortford Climate Group gives a personal account of experiences with an electric bike:
The age of electricity has arrived
"Cycling in places like Holland is ok where it a flat, they are supplied with proper cycle routes which helps of course, but here in Bishops Stortford? Only for the super fit surely, well no not anymore, I have always had a mountain bike and travelled all the local bridleways and byways, but due to illness I was being restricted to one hill then was exhausted so ten minutes all over, not anymore, I have joined the modern world and gone electric, carbon free electric at that, I am supplied by Ecotricity one of the renewable suppliers as everyone should be who has any interest in our planet, I also have 4 kWp of photovoltaics on the roof again as everyone should.
My new electric bike has opened up miles and miles of paths and bridleways, I can go up to 60 miles on one charge so far more than I ever expect to do in an afternoon. Not only that if I want to go into Stortford I can get there just about as quick on my bike across the fields as I can get parked there in my vehicle, with as much effort involved as I want to expend.
This new bike was pricey at £2000 there are cheaper ones, but has far exceeded my expectations. It can be ridden in the turned off mode but is a bit heavy for doing that for long. The lowest setting is Eco which just gives some help, the next setting is Tour which is one which needs some effort, but does help. The next setting gives more help and acceleration and the final one Turbo does it all for you up hill and down dale for mile after mile, all settings require the pedals to be turning, a legal requirement they would be motorbikes if not. So the older and less able I become there is a setting to suit, they can be switched at will, there are gears too. I have found that on some rough bridleways where the horses have poached up the path using Turbo is too fast so use in top gear so a lower gear is useful to slow down and still get full help. I have also been able to power out of mud which I would have been stuck in on my old bike.
Conclusion.. every one should have one, we need far better infrastructure of course, dedicated cycle paths and parking in town, hopefully this will be coming soon."