Transport is a major source of emissions in East Herts. Even if we could switch all our journeys to electric vehicles, some particulate emissions would remain, and there are still major concerns about resource use and the impact on electricity demand. Road-building has significant impacts on biodiversity and on our quality of life. Walking and cycling are a great alternative for local journeys.
Finding a route
Google maps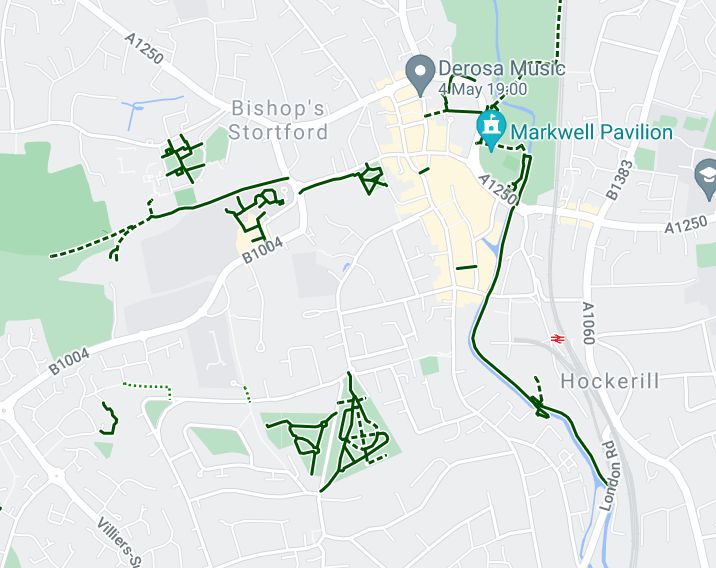 The directions function in Google Maps can be set for either walking or cycling and use off-road routes that are included in the database. This is getting better but there are some routes in Bishop's Stortford that are not included.
Komoot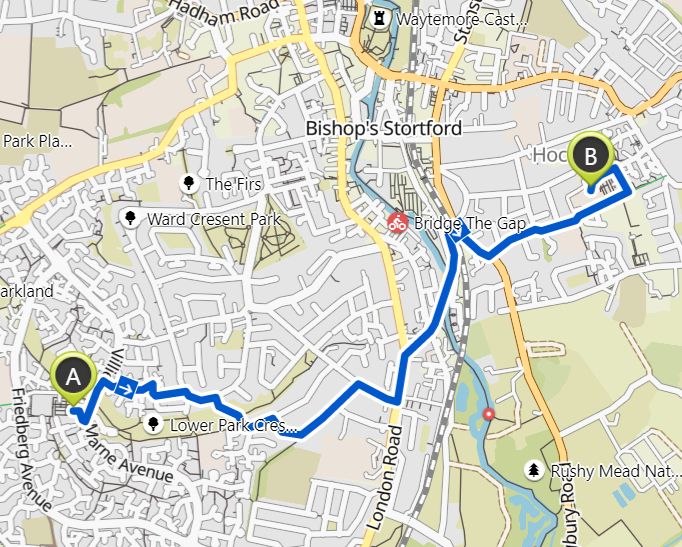 For a more comprehensive routes database try Komoot. This site also has more configuration options so you could set, for example, your fitness preferences and the chosen routes will show you how many hills are involved. There are different options for mountain biking or road bikes, and also for pedestrians where different routes will be selected.
Open Street Map
Komoot uses mapping data from Open Street Map but this is also directly accessible and has several different options for displaying the routes. The standard, CyclOSM and Cycle Map layers all show routes in Bishop's Stortford but with different levels of highlighting to the cycle routes compared to the mapping background.
A key feature of the Open Street Map data is that you can contribute new routes if they are not already included via the Wiki.
Rights of Way
The web pages listed above are great for finding routes that physically exist, but they don't guarantee that you have a right of access. For this you need the Rights of Way maps that are produced by the highways authorities, in our case Hertfordshire County Council and across the border to Essex County Council.
The maps only show rights of way up to the county boundary so there are some strange 'routes to nowhere' around Stortford where footpaths shown on the Herts map stop in the middle of a field, with the rest of the path being shown on the Essex map.